Mountain Graphics is a family owned and operated business with over 25 years experience in the screen printing industry. Since 1986 Mountain Graphics has been providing printed apparel to people who love the outdoors. Inspired by completing a thru-hike of the Appalachian Trail, founder Mark Newruck (trail name Pizza Man!), combined his interest in graphic design with his passion for outdoor adventure. These two stepping stones were the foundation of what is now Mountain Graphics.
Located in the mountainous region of Pennsylvania's Grand Canyon, Mountain Graphics loves the outdoors as much as you do. So whether you're a novice day hiker or a seasoned backpacker; or whether you just love cooking smores over a camp fire in the backyard, you'll find what you're looking for in our store.
Kick back and enjoy your hike through our new online store....
See you out on the trail!
Mark and The Gang at Mountain Graphics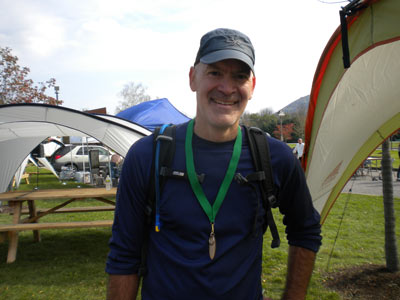 Mark at the 2012 Green Monster Trail Challenge in Wellsboro, PA